Two Imaging Specialists Join Forces for Better Patient Management
Abstract:
After spending time in the nuclear medicine department from the biggest private hospital in Austria, radiologist Philipp Peloschek, MD, realized many pathologies are simply invisible to radiology. In 2014, he teamed up with nuclear medicine specialist Martha Hoffmann, MD, to establish the private Radiology Center next door to the university. Together, the two successfully deliver a full spectrum of diagnostic imaging services. And their collaborative approach to patient management offers a glimpse into what the future of imaging could be.
Rezumat:
După ce a lucrat în departamentul de medicină nucleară al celui mai mare spital privat din Austria, radiologul Philipp Peloschek a realizat că multe patologii nu pot fi pur și simplu depistate cu ajutorul radiologiei. În 2014, a făcut echipă cu specialistul în medicină nucleară Martha Hoffmann, pentru a pune bazele unui Centru Privat de Radiologie. Împreună, cei doi oferă cu succes un spectru complet de servicii de diagnostic imagistic. Iar abordarea celor doi oferă o perspectivă asupra a ceea ce ar putea fi viitorul imagisticii.
Doctors who have spent years of their working life at a university hospital often experience an unexpected amount of solitude when they decide to go private. "In the university setting, we are trained to discuss every image we acquire with our colleagues. There is always interaction, and you learn new things every day," said Philipp Peloschek, MD, radiologist by training and a specialist in bone imaging on CT and MRI. Once in a private practice, this much-valued interaction often diminishes. "This is something I absolutely wanted to avoid. And that's why we decided, in 2014, to build the Radiology Center in direct proximity to the referring doctors." The Radiology Center in Vienna is not only close to several private clinics with surgeons, oncologists and cardiologists in constant need of state-of-the-art imaging. It also has a distinct architecture: upon entering, the Radiology Center feels bright and open, with the imaging workstations located right in the middle of the facility, surrounded by glass, rather than locked away in dark rooms ˗ a set-up that suggests a clear intention to interact. And it works: "This is really the imaging center I had always dreamt of," said Peloschek. "The location is ideal. The referring physicians come over to discuss the images. We get feedback on which therapies are chosen and whether they are successful. It is great."
The Additional Benefit of Molecular Imaging
The main business partner of the Radiology Center is the Vienna Private Clinic (Wiener Privatklinik) located next door. Apart from its collaborative philosophy, another notable difference about the Radiology Center is that it is not only about radiology, but also nuclear medicine. This is where Martha Hoffmann, MD, comes into play, a nuclear medicine specialist with extensive experience in the field of oncological molecular imaging. She is medical director of the molecular imaging facility, and as such, responsible for the first ever PET/CT owned by a private imaging center in Austria, a Biograph™ PET/CT* system. But they are also intrigued by the utility and future potential of their Symbia™ SPECT/CT*.
That a radiologist and a nuclear medicine specialist join forces in this way remains uncommon in the imaging world. But it makes perfect sense, said Hoffmann: "Our position is at the end of the diagnostic pathway. Referring doctors expect us to make precise interpretations, and by combining our expertise, we can give very straight forward recommendations most of the time. The experts also advise referring doctors on which imaging modality is best used in certain cases, another reason why the Radiology Center established itself so quickly: "Virtually, from day one, we've had a high volume of patients. We accomplished this without any advertising or other gimmicks. We simply offer good medicine."
Good medicine can take time. Peloschek and Hoffmann regularly discuss a case for 15 to 20 minutes before they close it: "Sometimes the morphological findings don't align with the molecular findings, and then we have to sort that out," said Peloschek.
"Referring doctors expect us to make precise interpretations, and by combining our expertise [radiology and nuclear medicine], we can give very straight-forward recommendations…" – Martha Hoffmann, MD, Nuclear Medicine Specialist, Radiology Center, Vienna, Austria
"We could help more patients if SPECT/CT was used more broadly in oncology and if more oncological SPECT tracers were available" – Philipp Peloschek, MD, Radiology Specialist, Radiology Center, Vienna, Austria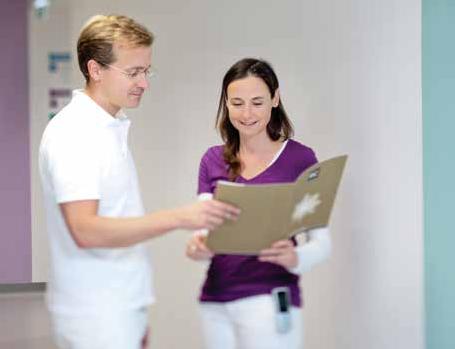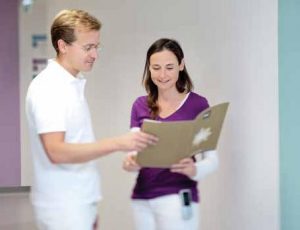 Complementing each other's specialties, radiologist Philip Peloscheck, MD, and Martha Hoffman, MD, a nuclear medicine specialist, discuss cases performed on the Radiology Center's hybrid scanners.
Although he comes from radiology, Peloschek is impressed by what molecular imaging can offer on top of the morphological information that comes through conventional radiology, CT and MRI: "I was lucky enough to spend time in the nuclear medicine department at Vienna University Hospital, and I realized that many pathologies are simply invisible to radiologists. True, we can increasingly depict molecular features with MRI, too. Metabolic imaging has been scientifically proven for decades, and you don't need a 3 or 7 Tesla MRI machine."
A Powerful Tool for Lower Back Pain Patients
As a specialist in musculoskeletal imaging, Peloschek continues to be amazed at how molecular imaging can add to radiological bone imaging. "Patients with chronic lower back pain or patients after spine fusion surgery can benefit greatly from molecular imaging," he said. "In such a patient, MRI might show some distorted nerves, but no real compression. There might be some inflammation in the intervertebral discs, and some sign of edema in the small vertebral joints."
These findings are all real, but often it is not specific enough. SPECT/CT, on the contrary, might show that there is increased metabolic activity in a clearly defined region of a specific intervertebral disc, or it might hint to increased osteoplastic activity in one of several somewhat inflamed small intervertebral joints. "SPECT/CT tells us exactly which joint has to be treated by the interventional radiologist, and this will lead to good therapy results for the patient in the end. SPECT/CT in chronic lower back pain is a powerful method to find the source of the problem."
Older patients with peripheral bone problems are good candidates for SPECT/CT too, for example diabetics with suspected osteomyelitis or patients with pain after the implantation of an orthopedic prosthesis. "As a radiologist, I know that MRI is a great modality for these patients, and we use it regularly, of course. But the signs of altered bone metabolism that we see on MRI sometimes don't tell the whole story. And there are also less movement artifacts on SPECT/CT," said Peloschek. He recalled an elderly diabetic patient with a cardiac pacemaker with pain in the forefoot. SPECT/CT depicted an osteomyelitis in the distal phalange of one of the toes. "We saw it glowing. It was really fascinating. And for the patient, this was important news because we were able to tell the surgeon exactly where the problem was. He knew immediately what he had to do to help this patient."
Another Workhorse for Oncology Imaging?
Apart from patients with musculoskeletal diseases, patients with oncological diseases are the second largest group of customers who keep the PET/CT and SPECT/CT systems of the Radiology Center busy. The majority of PET/CT cases, in particular, are in oncology, explained Hoffmann: "Lung cancer staging prior to surgery is a big area, and diagnostic lung cancer imaging in patients with suspicious nodules. We also regularly examine patients with lymphoma, melanoma, and colorectal or esophageal carcinoma."
SPECT/CT is also regularly used for oncology at the Radiology Center, and not only for bone, thyroid, and cardiac ischemia imaging. Since the PET tracer 68Ga-DOTATOC** is not readily available in Austria, Hoffmann and Peloschek perform 99mTc-labelled octreotide** SPECT/CT studies in patients with neuroendocrine tumors. "I was surprised by the quality of this method."
Peloschek agreed: "The images are fantastic. You can clearly see a 3 mm lymph node right under the diaphragm. It is really impressive."
Hoffmann and Peloschek see a need for many more SPECT tracers and predict that SPECT/CT will have a bright future in oncology. "SPECT/CT is flexible. It has a low price point, which makes it more accessible," said Hoffmann. While she agrees that PET/CT is recognized as the high-end method for molecular oncological imaging, she is convinced that having more SPECT/CTs and oncological SPECT tracers would markedly improve the access to molecular imaging for many oncological patients.
"We satisfied our controller"
Looking back at two years of their "radiology meets nuclear medicine" joint venture, both Peloschek and Hoffmann say it was worth all the effort. They not only receive excellent feedback from their colleagues on the quality of their diagnostics, but have also managed to perform financially: "After the first full year, our external controller was satisfied," Peloschek smiled. The use of multi-modality imaging equipment had its share in this success. "We have a lot of imaging hardware, but we don't have a CT system. We do all of our routine CTs on either the SPECT/CT or the PET/CT," explained the radiologist. This has several advantages. It saves space, as there is no need for an additional exam room and the associated radiation shielding. "It is inefficient to buy imaging technology that can only perform one kind of examination. Our SPECT/CT is very cost efficient."
Although there is no separate CT system at the Radiology Center, Peloschek said that, thanks to the Siemens PET/CT and SPECT/CT scanners, he is not compromising on the quality of CT diagnostics. "Our scanners have full diagnostic CT capabilities. This makes the systems the ideal choice not only for a nuclear medicine specialist, but also for a radiologist."
Philipp Grätzel von Grätz is a medical doctor turned freelance writer and book author based in Berlin, Germany. His focus is on bio-medicine, medical technology, health IT, and health policy.
Fii conectat la noutățile și descoperirile din domeniul medico-farmaceutic!
Utilizam datele tale in scopul corespondentei si pentru comunicari comerciale. Pentru a citi mai multe informatii apasa aici.